Let's shoot BLACK POWDER
Posted on November 28, 2014 in Books & magazines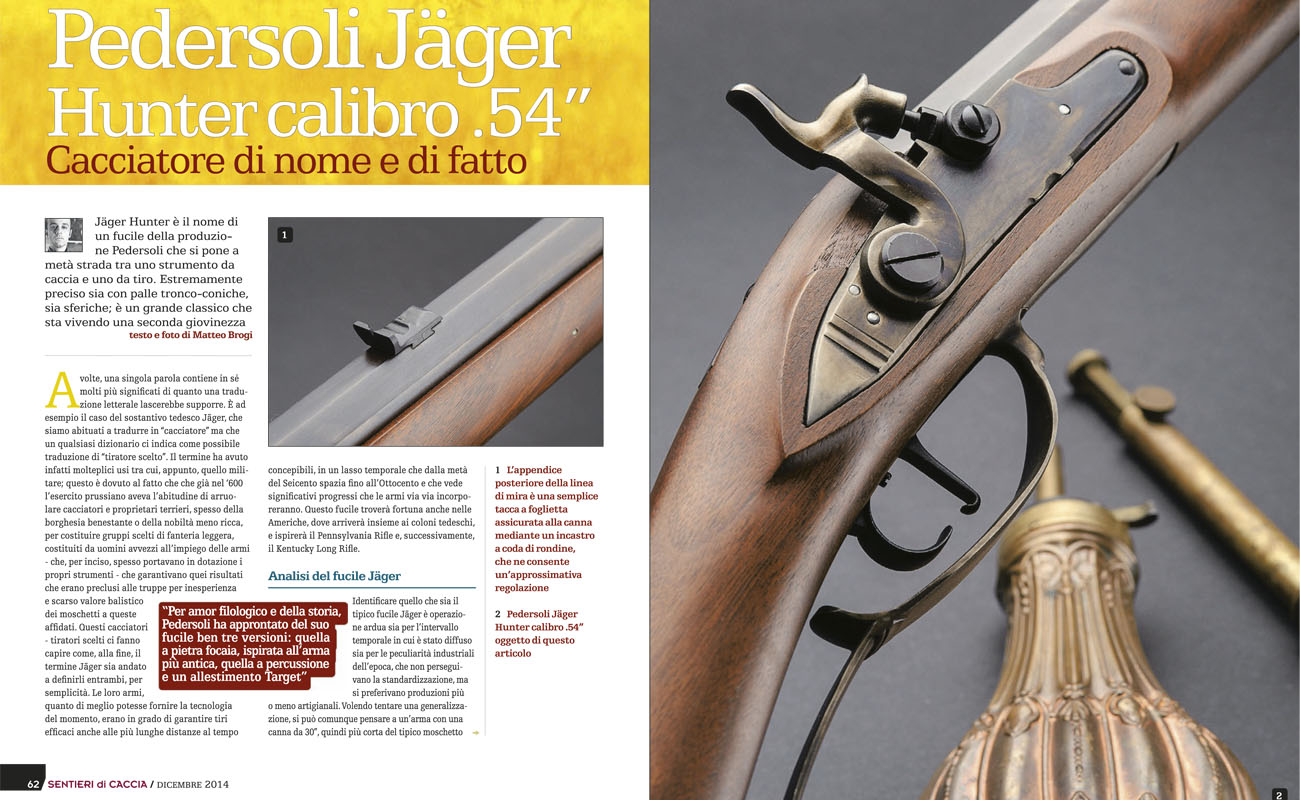 In my opinion, Black powder represents one of the most viable and, I take the intellectual freedom to spend this adjective, MODERN alternatives to the established hunting traditions. Many readers will see between the adjective used and tools originally created in the nineteenth century a contradiction in terms, the result of a prejudice that humiliates a sector in which Italy is once again second to none, and the hunting movement itself, constantly under siege by an army of "mainstreamers" who are exploiting the reprehensible habits a modest minority of hunters to convict all. Far from me is the intention to please the mainstream, but there is no doubt that a more responsible approach to the hunt (today "ethical" is a fashionable adjective) benefits the movement and, above all, the preservation of hunting over the years.
Where a more responsible attitude was adopted, think of the United States, the benefits are obvious. Many states have established hunting calendars specifically for black powder hunters (calendars that often anticipate the date of the official opening), helping to extend the popularity of hunting and giving a burst to the market that produces a positive return not only to manufacturers of weapons but to the economy in general.
We spoke with Stefano Pedersoli from Davide Pedersoli (which, in the specific segment, has a leadership that is recognized in Italy and in the world) in occasion of a series of tests that we carried out.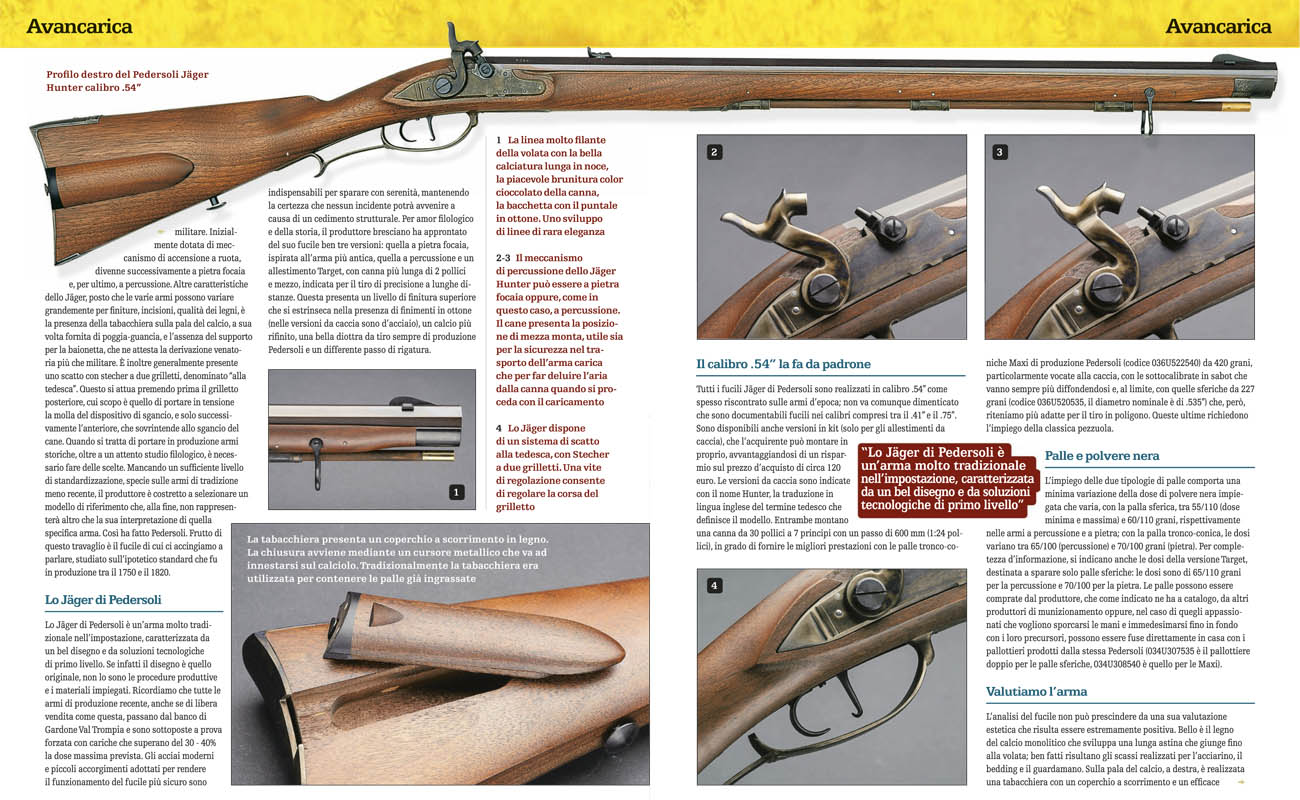 One of the strong prejudices against muzzle-loading is related to the safety of hunting and the weapon itself. From this second aspect, it must be noted that Pedersoli manufactures its products using the original mechanical architecture but using steels of modern conception (supplying much higher performance than the ones produced two centuries ago) and contemporary industrial methods, responsible for a significant improvement in performance. Several precautions, such as the choice of weapon systems mechanically safe and implementation of safety devices, eliminate any doubt about the effectiveness of safety equipment and passive safety of the weapons.
Pedersoli Jäger is very traditional in settings, characterized by a beautiful design and first level technological solutions. If design is the original one, they are not manufacturing procedures and materials. All guns of recent production are tested with charges exceeding of 30/40% the maximum dose. Modern steels and precautions taken to make the operation of the rifle safer are essential for shoot with serenity, maintaining the certainty that no accident may occur due to structural failure.
Pedersoli produces three versions of his rifle: the flintlock, the percussion and a Target version, with a barrel longer of 2 and a half inches, indicated for precision shooting at long distances. All Jäger rifles are chambered .54 caliber as often found in origin; however, should not be forgotten that are documented rifles in calibers ranging from .41 "and .75".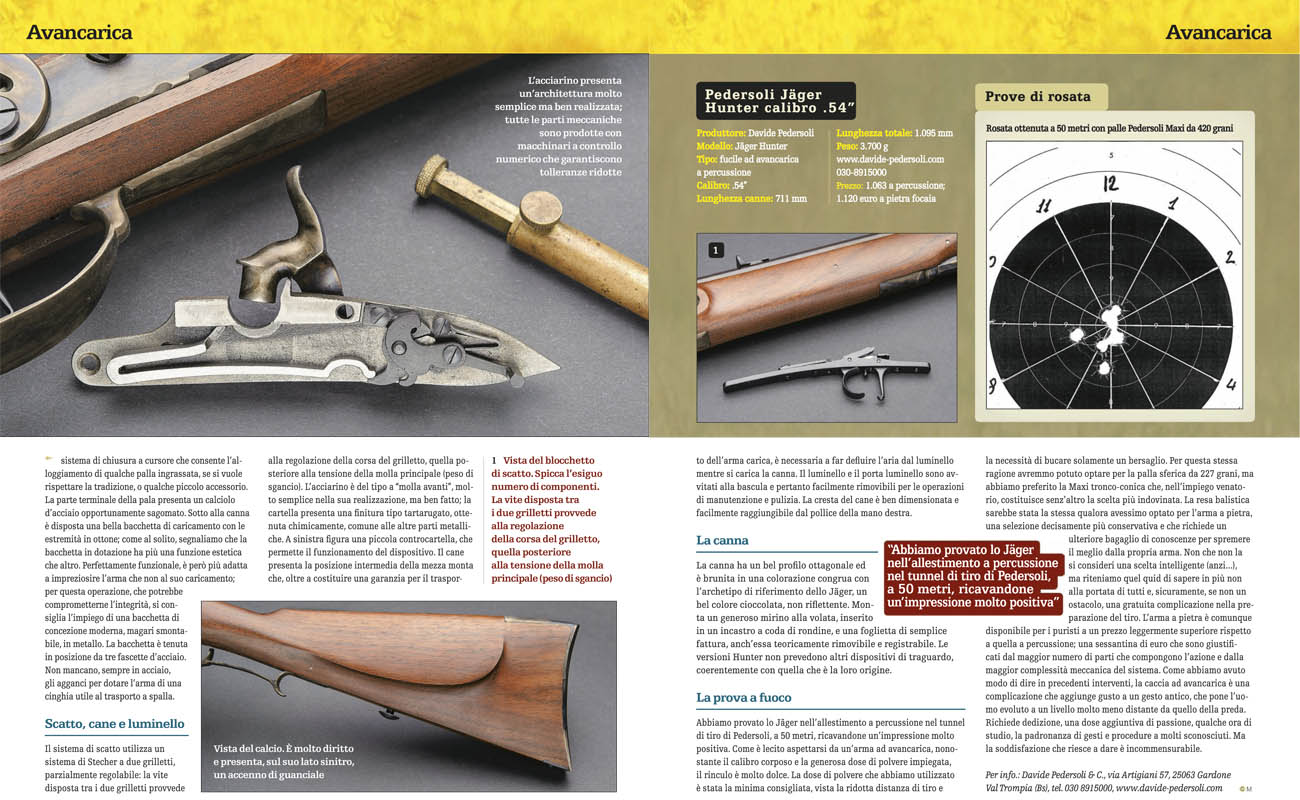 TECHNICAL DATA
Producer: Davide Pedersoli
Model: Jäger Hunter
Type: percussion muzzle loading rifle
Caliber: .54 "
Barrel Length: 711 mm
Overall length: 1,095 mm
Weight: 3,700 gr
www.davide-pedersoli.com / 030-8915000
The full Jäger Hunter test has been published on 2014 December issue of Sentieri di Caccia, monthly magazine by CAFF Editrice .
---

Do you know Shooting Log Facebook page? If not, why don't LIKE it now?